Ask yourself, "Which of the following can I not live without today, my washer, dryer, refrigerator, TV, entertainment components, or computer?" If you need to use any of these items on a daily basis this column pertains to you. Most families look forward to fun in the sun that comes along with the summer season but an unfortunate sidekick of the warm weather is lightning. Homeowners have smoke detectors in their home to protect them if lightning were to be the cause of a fire, however, far less homeowners take the added precaution to protect their appliances and electronics. Most people have power strips that double as surge protectors and having a high quality one is a definite must for expensive electronics but you can do more!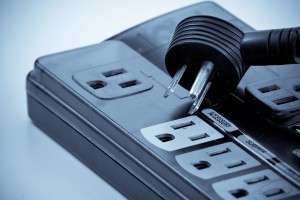 Electrical service companies have the ability to install a surge protector in your electrical panel which not only protects your electronics that are plugged into a surge suppressing power strip but also protect everything in your house that is connected to an outlet. A whole house surge protector installed at the panel catches the power surge before it enters the wiring in the home. Lightning is the most familiar cause of surges but is the least likely to occur. Did you know that 40% of all computer crashes and data loss is a direct result of a power surge and the average North American home faces five or more surges a day or 2000 a year? In addition, half of surges come from inside your own home when large appliances turn on and off.
While these surges are nowhere near the intensity of a lightning surge, they can be severe enough to damage components, immediately or over an extended period of time. Other surges can be a result from faulty wiring in your home so it would be in your best interest to get a whole home safety inspection completed before installing a surge protector because installing a surge protector in that situation would just be putting a band aid over something that needs stitches.
One quick inexpensive project that all homeowners should is to install a power strip surge protector that is rated to handle higher surges than the basic extension cord with 5 or 6 outlets on the end of it. To do so go to your local hardware store and purchase a surge protector strip with a UL rating of at least 1449.
Although there is no surge protector on the market that will protect your house 100% from a direct lightning strike, installing a surge protector in your panel will protect you from the day to day surges that could cost you thousands of dollars in repairs and replacement of electrical items that are essential in your everyday activities.
If you ever do experience a power outage, make sure you no these power outage survival tips!
For additional information on how you can protect your home's electronics, contact your professional Atlanta electrician today!