At H&H Electric and Security, we take pride in offering Surround Sound Entertainment installations. If you are interested in enhancing your home's entertainment system, allow our specialists to pre-wire your new home for surround sound, in-room, and or deck speakers today! We will pre-wire your home for speakers in any room you would like. In addition to installing your new systems, we will also assist you in designing the ultimate sound system to meet your needs. We have a variety of brands for you to choose from!
Listed below, you will find a few of our current options:
5 speaker surround sound set up
7 speaker surround sound set up
Volume controls for individual rooms
Stereo receivers
IR-infrared remote stations
Individual runs available for certain rooms per your request
Exterior speakers for stereo
Check out our blog on The Art of Positioning Speakers for Your Home Sound System!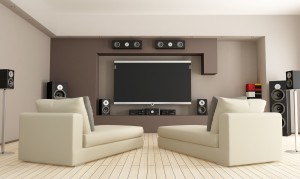 Installation can be complicated
Complicated installations have a direct correlation with the size and make of the surround system that you purchased. Because of this, when it comes to the installation process, there are several technical considerations involved! The first consideration is the wiring of the speakers if you are not using a wireless system. Then the part of sorting out all the electrical issues that can arise at any time can be quite the headache. Handling these types of problems can be frustrating and time consuming if not done by someone professional trained with the installation process.
The positioning of each speaker
Possible static interference