Ceiling fan installations can be a hazardous job for any homeowner, even if you have experience using a ladder! Electrical wiring, proper installation of device, proper controls installed, and proper mounting can be a tough job on anyone. Instead of putting yourself at risk just to hang your ceiling fan, call your Atlanta electrician for the job! At H&H Electric and Security, we take pride in being your go-to company for all of your home's needs. Contact our specialists for additional information on how we can help service your home today! If you're ready to purchase a fan, check out our blog on How to Choose a Ceiling Fan.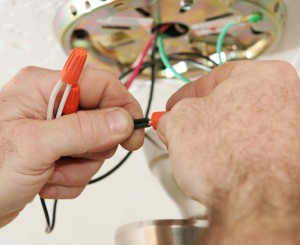 Today's home and business owners want optimum control of their electrical systems. Dimmers and ceiling fan speed controls provide just that control for you.
Benefits of dimmers:
Unlike your simple on/off light switch, found in most homes, dimmers allow you to put out the exact amount of electricity, regardless if it is daytime or evening. Two of the most beneficial reasons to have dimmers installed throughout your home, instead of your standard on/off lighting, are:
Dimming allows homeowners to control the quantity of light going to their fixtures to fit specific tasks, set certain moods, or situations.
Not only is the user experience enhanced, but more importantly- you save money by conserving wasted energy daily!
Types of lighting sources for dimmers:
Light Emitting Diode (LED): Electronic LED Driver
Fluorescent: Electronic Fluorescent Dimming Ballast
Neon/Cold Cathode (Magnetic Ballast)
Electronic Low-voltage (ELV)
Magnetic Low-voltage (MLV)
Incandescent/Halogen
Fan Control Basics
There are 3 common types of fan controls:
Fully Variable:
Fully variable fan speed
Controls paddle fans
Controls exhaust fans
Quiet – 3 Speed:
Off + 3 different speeds
No fan motor hum
Controls only one ceiling paddle
Quiet – 7 Speed:
Off + 7 different speeds
No fan motor hum
Controls up to 4 ceiling paddles
Control 1 canopy module for each fan
For additional information about your home dimmers or fan controls, contact your H&H specialist today!
Did you know that the third largest user of lighting is within residential homes. By having quality lighting devices installed, you can save money by conserving your energy consumption on a monthly basis. At H&H Electric and Security, we provide a variety of decorator devices for your home! Our stylish decorator switches and receptacles combine today's design with the easement and reliability for installation and performance. Here at H&H Electric and Security, we use Pass & Seymour products, however other name brands are available upon request.
What does light control mean for you?
By installing light controlling devices throughout your home, you have the ability to regulate the level and quality of light in any given space at any time of the day. As a result, you start to use lighting more efficiently. Enjoying the lighting within your home does not have to cost you hundreds of dollars per month. Consult with your H&H professional and see which products will work best for your home and start your savings today!
Contact our professional staff today for additional questions.
Types of Decorator Devices:
When it comes to decorator devices, there are three main devices commonly known in the lighting industry:
How to save using dimmers:
Dimmers vary the percentage of the time power is actually flowing back and forth to the lamp by turning power on and off 120 times per second. For greater savings, you want to focus on achieving a great off time. In order to achieve a greater off time, you should use a lower light intensity. In addition to conserving energy, dimmers also enable lamps to run at a cooler temperature, which conserve the life of your lamps, saving you money in the long run.
How to save using sensors:
One of the most common phrases known in the a household is, "make sure you remember to turn the light off". To prevent this from occurring in your household, light sensors can be used to help regulate energy. When the room is unoccupied, the lights will turn off- saving you money!
How to save using timers:
One of the best ways to save yearly, especially around the holiday time, is to make use of timers. Timers are ideal for electrical loads that need to operate for extended periods of time. They consist of an automatic turn-off that does not require you to manually switch. Timers are perfect for outdoor lighting and for all holiday seasons when it is time for outdoor decor!
For additional information on how you can start saving today with your home lighting, contact our professional representatives today! Our friendly staff is always here to help assist you with all of your electrical needs.