At H&H, we specialize in a variety of services to help complete all of your home and office additions.
Our most popular services include:
Accent Lighting
Recessed Lighting
Network Systems
Central Vacuum Systems
Receptacles
GFI Circuits
Complete Remodels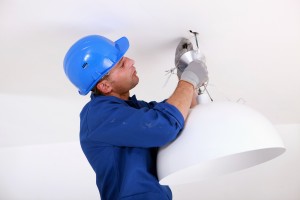 Accent lighting, also known as directional lighting, is used for emphasizing a particular object or draw attention to something on display. This type of lighting is commonly used throughout Atlanta homes today to help illuminate certain focal points such as fireplaces, mantels, tables, artwork, and many more. As your Atlanta electrician, we offer a variety of product lines from a variety of collections. All of the brands we work with have a 100% commitment to their customers just as we do at H&H Electric and Security.
Under Counter Lights
Under counter lighting is simply the lighting that is placed underneath top cabinets to highlight the counter underneath it. Under counter lighting brings is becoming more and more popular in kitchens and home offices.
Step Lights
Step lighting brings a calming tone to any environment, in addition to providing extra lighting for steps! This type of accent lighting is great for families or businesses wanting to bring attention to stairways and add to a modern theme.
Over Counter Lights
Over counter lighting is great to use as accent lighting when focusing on a spotlight item. The most common forms of using over the counter lighting is in a kitchen or business reception area to highlight a focal point.
Recessed lighting transforms a home into an environment with subtle effects or dramatic enhancements. A room's unique structure, texture, and design comes alive with well placed lighting. For example, a corner room becomes a cozy, comfortable den. Recessed lighting can accomplish all these tasks without taking away from the interior space.
H&H Electric & Security will pre-wire your home to meet your needs with the innovative structured wiring system. Category V wiring is ran for your telephones, and Category V enhanced is ran for your networking system. It will handle up to 100 base T system. RG-6 Quadshield is put in place for the ultimate signal through satellite or local cable company. Structured wiring is a true asset to the person who works from their home office!
H&H Electric & Security will rough and trim out a central vacuum system in your new home! We can customize a system for you or install a basic system. A basic system can manage a home up to 7,500 square feet with the greatest of ease. Basic package layout: Airvac 3-state motor Deluxe 30′ crush proof house 12″ standard carpet brush with wand 5 standard vacuum ports Additional ports are available Additional hoses are available Kick plate for hardwoords Garage ports for car vacuuming